Feb. 23, 2018
Chapel
Everyone is welcome to join us for our Chapel Service on Wed. Feb., 28, at 8:30 a.m. at Good Shepherd Lutheran Church. Pastor Sheets from Good Shepherd Lutheran Church will be leading this chapel service.
Our chapel offerings from now until the end of March will go to
Heifer International
. Heifer International is a charity organization working to end hunger and poverty around the world by providing livestock and training to struggling communities.
Birthdays
We would like to with a very Happy Birthday to:

2/26 - Kailer Yeoman (PK2)
2/28 - Stephen Patrick (2nd)
3/1 - Braxton Ervin (6th)
3/1 - Mrs. Drew Todaro (PK2 aide)
Thank You to our Mini-Course Volunteers
We would like to say thank you to our mini-course volunteers for our 2nd - 4th graders. The students loved their mini-courses and had an excellent time each Friday afternoon during February. We appreciate each one of you!
Morning Care Worker Needed for K - 8th
BCA is looking for a morning care worker for K - 8th grade students, Monday - Friday, 7 a.m. to 8 a.m. for supervision of our students who arrive before school opens. The pay is $10.00 per hour. If you are interested, please call the school office at 423.622.3755.
St. Jude Math-A-Thon
The Math-a-Thon will run through Mar. 29. If your child wishes to participate, please be sure to return the permission slip to your student's homeroom teacher.
Fine Arts Evening at BCA
On Thurs., Mar. 8, we will host our annual "Fine Arts" evening. Beginning at 6:30 p.m. students in PK - 8th grades will have artwork on display in the cafeteria. Following at 7 p.m., several of our middle school students will be performing in the Spring Play. Please mark your calendar now, and make plans to attend this fun evening.
Middle School Play
The BCA Players will be performing
"The Great American Talent Show"
by Joseph Robinette. This play is a comical parody of the finals of American Idol, America's Got Talent and all TV talent shows. Please make plans to join us for BCA Arts Night at 6:30 p.m. on Thursday, March 8.
Grandparents' Day - Fri., Mar. 9
Friday, March 9 is Grandparents' Day at BCA. Invitations will be mailed next week. Students must wear chapel dress code to school this day. The program will start at 8:15 a.m. in the cafeteria for fellowship and all grandparents to get nametags and the schedule for the day. Following, there will be a program in the gym, refreshments during classroom visits, family pictures and shopping at the Scholastic Book Fair. Dismissal will be at 11:00 a.m. for students and grandparents to enjoy the afternoon together. Day Care will be open but students must bring a sack lunch.
News from BCA Music Teacher, Sarah Harr
Special Service Project to Collect Items for "Welcome Home of Chattanooga"
Please join us for our annual Grandparents' Day program on Mar. 9! Our theme is "Loving and Serving Our Neighbors." We will be reading scriptures and singing songs that center around loving our neighbors, having a servant heart, living in peace and charity and taking care of our community. The middle school handbell choir will be playing during the program as well.
In addition to our special program, we will be collecting money and items to donate to
Welcome Home of Chattanooga
- a facility in East Ridge that cares for the aging who are homeless and terminally ill.
Welcome Home also has a ministerial aspect to their organization, although they are not affiliated with a particular church. They are in dire need of basic supplies.
If you are able, please bring one or more of the following items to donate to Welcome Home anytime between now and Mar. 9:
Kindergarten and Middle School (6th - 8th grade):
ground coffee
powered coffee creamer
coffee filters
1st/2nd grade:
paper towels

toilet paper


3rd - 5th grade:
personal care wipes
anti-bacterial cleaning wipes
All of the students are coloring pictures for the Welcome Home residents during music class as well.
We will have a special blessing of the donated items during the program on Grandparents' Day, as well as an offering that will be donated to Welcome Home. All the children, including Pre-K3/4, are participating in the musical portions of the program, beginning at 8:45 a.m. Please feel free to email me if you have any questions:
[email protected]
. I look forward to seeing you there!
God Bless,
Sarah Harr
Please continue to sell items for our PTL Spring Fundraiser!
For more information, contact Sheila Stephens, PTL fundraising coordinator, at 423.902.4448.
Thank you for supporting BCA!
Orders and Money due Wed., Mar. 7!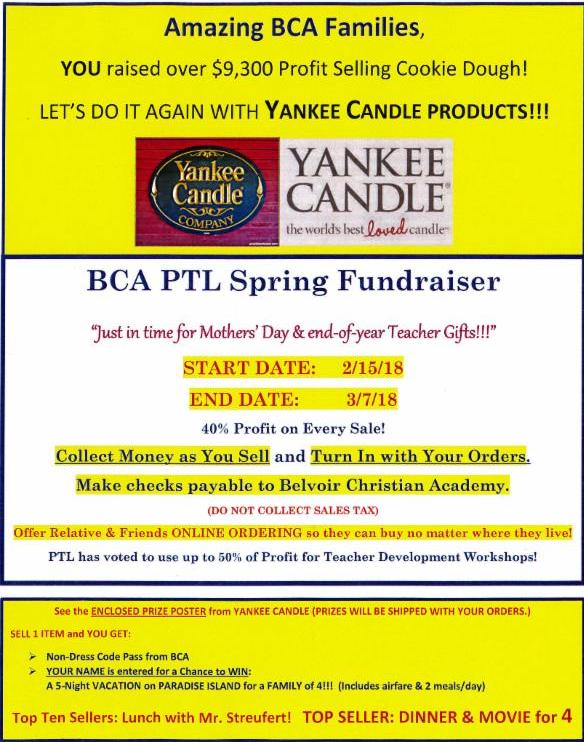 Prize Re-Cap!
The Top Seller in Infants - PK4 will receive ONE FREE WEEK OF TUITION!
The Top Seller in K - 8th will win Dinner & Movie for 4!
Top 10 Sellers in K - 8th will enjoy a special lunch with Mr. Streufert!
Plus, every student, Infant - 8th, who sells at least one item will have their family's name entered for a chance to win the vacation mentioned above!
Thanks to ALL of YOUR selling efforts over the past year, we were able to bring the following to our BCA students and families!
MENU

Mon., Feb. 26 - Mac & Cheese Roll, Peas, Fruit Cocktail
Tues., Feb. 27 - Turkey & Dressing, Green Beans, Orange
Wed., Feb. 28 - Chicken Nuggets, French Fries, Grapes
Thurs., Mar. 1 - Pancake Wrap, Oatmeal, Warm Apples
Fri., Mar. 2 - Pizza, Salad, Fruit
Mar. 7 - Yankee Candle Fundraiser Money and Orders Due
Mar. 8 - BCA's Annual Arts Night & Middle School play - 6:30 p.m.
Mar. 9 - Grandparents' Day - 8:15 - 11 a.m.
Mar. 16 - Blue Jean Dollar Day (proceeds to go to Heifer International)
Mar. 23 - Spring Picture Day - individual and class photos, along with team photos for basketball, volleyball and cheerleading
Mar. 27- Open House for Prospective Families (4 - 7 p.m.)
Mar. 29 - St. Jude Math-a-Thon ends - booklets and pledge money due.
Mar. 30 - Good Friday - School and Childcare closed
Apr. 2 - 6 - Spring Break - School closed/Childcare open
Apr. 13 - Muffins with Mom - 8:15 - 9 a.m.